Profile: Thomas Kelley, Commercial Relationship Manager, SBA Specialist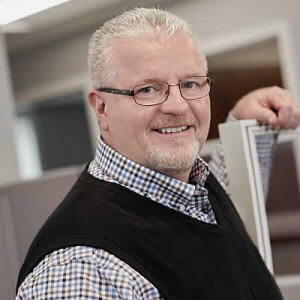 Tom Kelley, Village Bank's Small Business Administration (SBA) specialist, has been with Village Bank since 2015. Tom began his career in SBA lending at a community bank in his home state of Massachusetts. Starting out as an underwriter, he was immersed in all the elements of an SBA application. With his in-depth understanding of the process, it wasn't long before he was encouraged to become an official lender. Since then he has embraced the difference he can make in people's lives by guiding them through the SBA application process.
"There are a lot of very good small businesses out there that just don't know all the ins and outs of the financials," says Tom.  He makes it his business to know his clients' business so he can recommend the best SBA lending option for them.
"I've been involved in SBA lending for a long time and that experience is important," Tom says. "I am able to give them a checklist right up front which helps alleviate the stress that some business owners face.  Also, my experience in underwriting has been instrumental in allowing me to evaluate deals up front, and to help guide small business owners in submitting strong applications right from the start. Because to them, every loan is a big loan."
With Tom on the SBA lending team, Village Bank was recognized as the nation's 2019 Leading SBA Lender in its size category.  In 2020, Village Bank was designated by the SBA as a Preferred Lender "which allows us to approve the applications directly for the SBA and helps to cut down on time and lots of back and forth."
When asked what customers can expect when working with Tom, he replies "I like to sit down with customers to make sure they understand the application process.  I review their financials and help them answer any questions an underwriter might have before the application is even submitted.  I consider myself their advocate, helping them think through the options, get through the process and know that I am there for them. My customers know they can call me directly."
Tom shares a story about a person who was looking at opening a specialty retail store in the midst of the pandemic.  His client expressed hesitation about starting a new business during such an unpredictable time.  Tom encouraged her to consider waiting until circumstances were more stable. "It wasn't about me having the savvy of an experienced SBA lender, I was just being a person with her.  I said 'I wouldn't feel right about taking a lien on your home when there is so much uncertainty out there.'  You can't put business owners in a bad position just to get a loan done.  I just won't do that.  And I think everybody else here at Village thinks the same way."
"It's not about being transactional," Tom says "We want to do business with you for years so we want to make sure it's right the first time."
When asked about the future of small businesses in the community, Tom answers, "It's tough to know what to expect coming out of this [pandemic] but what I have seen is a lot of business acquisitions. Which is great because that means new generations of small business owners are coming in and our community will grow and thrive again."